PyQt By Example: Session 4
Action!
Requirements
If you have not done it yet, please check the pre­vi­ous ses­sion­s:
All files for this ses­sion are here: Ses­sion 4 at GitHub. You can use them, or you can fol­low these in­struc­tions start­ing with the files from Ses­sion 3 and see how well you worked!
Action!
What's an Action?
When we fin­ished ses­sion 3 we had a ba­sic to­do ap­pli­ca­tion, with very lim­it­ed func­tion­al­i­ty: you can mark tasks as done, but you can't ed­it them, you can't cre­ate new ones, and you can't re­move them, much less do things like fil­ter­ing them.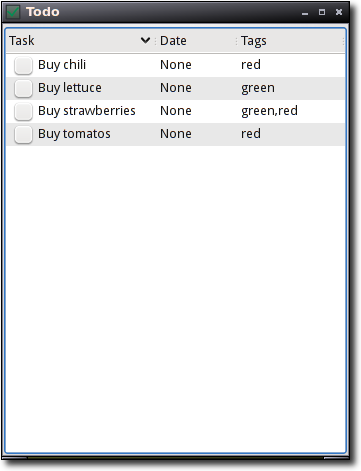 To­day we will start writ­ing code and de­sign­ing UI to do those things.
The key con­cept here is Ac­tion­s.
Help? That's an ac­­tion

Open File? That's an ac­­tion

Cut / Copy / Paste? Those are ac­­tions too.
Let's quote The Fine Man­u­al:
The QAc­tion class pro­vides an ab­stract us­er in­ter­face ac­tion that can be in­sert­ed in­to wid­get­s.

In ap­pli­ca­tions many com­mon com­mands can be in­voked via menus, tool bar but­ton­s, and key­board short­cut­s. Since the us­er ex­pects each com­mand to be per­formed in the same way, re­gard­less of the us­er in­ter­face used, it is use­ful to rep­re­sent each com­mand as an ac­tion.

Ac­tions can be added to menus and tool bars, and will au­to­mat­i­cal­ly keep them in sync. For ex­am­ple, in a word pro­ces­sor, if the us­er press­es a Bold tool bar but­ton, the Bold menu item will au­to­mat­i­cal­ly be checked.

A QAc­tion may con­tain an icon, menu tex­t, a short­cut, sta­tus tex­t, "What's This?" tex­t, and a tooltip.
The beau­ty of ac­tions is that you don't have to code things twice. Why add a "Copy" but­ton to a tool bar, then a "Copy" menu en­try, then write two han­dler­s?
Cre­ate ac­tions for ev­ery­thing the us­er can do then plug them in your UI in the right places. If you put them in a menu, it's a menu en­try. If you put it in a tool bar, it's a but­ton. Then write a han­dler for the ac­tion, con­nect it to the right sig­nal, and you are done.
Let's start with a sim­ple ac­tion: Re­move Task. We will be do­ing the first half of the job, cre­at­ing the ac­tion it­self and the UI, us­ing de­sign­er.
Creating Actions in Designer
First, let's go to the Ac­tion Ed­i­tor and ob­vi­ous­ly click on the "New Ac­tion" but­ton and start cre­at­ing it: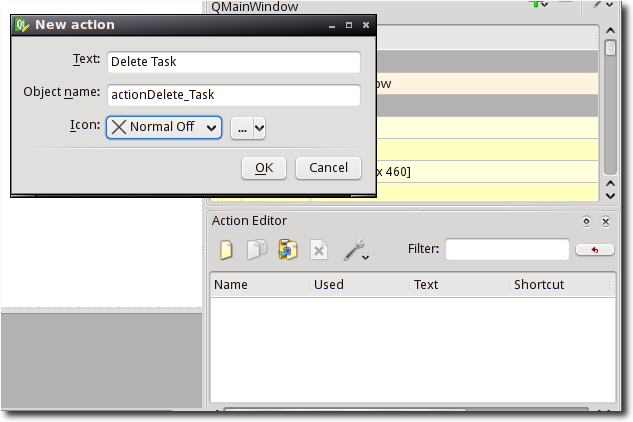 A few re­mark­s:
If you don't know where the "X" icon came from, you have not read ses­­sion 3 ;-)

The ac­tion­Delete_­Task ob­ject name is au­to­mat­i­cal­ly gen­er­at­ed from the text field. In some cas­es that can lead to aw­ful names. If that's the case, you can just change the ob­ject name.

The same text is used for the icon­­Text and toolTip prop­er­ties. If that's not cor­rec­t, you can change it lat­er.
Once you cre­ate the ac­tion, it will not be marked as "Used" in the ac­tion ed­i­tor. That's be­cause it ex­ist­s, but has not been made avail­able to the us­er any­where in the win­dow we are cre­at­ing.
There are two ob­vi­ous places for this ac­tion: a tool bar, and a menu bar.
Adding Actions to a Tool Bar
To add an ac­tion to a tool bar, first make sure there is one. If you don't have one in your "Ob­ject In­spec­tor", then right click on Main­Win­dow (ei­ther the ac­tu­al win­dow, or its en­try in the in­spec­tor), and choose "Add Tool Bar".
You can add as many tool bars as you wan­t, but try to want on­ly one, un­less you have a very good rea­son (we will have one in ses­sion 5 ;-)
Af­ter you cre­ate the tool bar, you will see emp­ty space be­tween the menu bar (that says "Type Here") and the task list wid­get. That space is the tool bar.
Drag your ac­tion's icon from the ac­tion ed­i­tor to the tool bar.
That's it!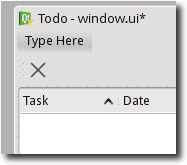 Coming Soon
Well, that was a rather long ex­pla­na­tion for a small fea­ture, was­n't it? Don't wor­ry, the next ac­tions will be much eas­i­er to ad­d, be­cause I ex­pect you to read "I added an ac­tion called New Task" and know what I am talk­ing about.
And in the next ses­sion, we will do just that. And we will cre­ate our first di­a­log.
Further Reading
---
Here you can see what changed be­tween the old and new ver­sion­s:
| | |
| --- | --- |
| Modified lines:  | None |
| Added line:  | 44, 45, 46, 47, 48, 49, 50, 51, 52, 53, 54, 55, 56, 57, 58, 59, 60, 61, 62 |
| Removed line:  | None |

Generated by diff2html
© Yves Bailly, MandrakeSoft S.A. 2001
diff2html is licensed under the GNU GPL.
---
 
session3/main.py
 
 
session4/main.py
 
60 lines
1557 bytes
Last modified : Thu Mar 5 02:03:34 2009


---

 
 
79 lines
2300 bytes
Last modified : Sat Mar 7 02:06:29 2009


---

1
# -*- coding: utf-8 -*-
 
1
# -*- coding: utf-8 -*-
2
 
2
3
"""The user interface for our app"""
 
3
"""The user interface for our app"""
4
 
4
5
import os,sys
 
5
import os,sys
6
 
6
7
# Import Qt modules
 
7
# Import Qt modules
8
from PyQt4 import QtCore,QtGui
 
8
from PyQt4 import QtCore,QtGui
9
 
9
10
# Import the compiled UI module
 
10
# Import the compiled UI module
11
from windowUi import Ui_MainWindow
 
11
from windowUi import Ui_MainWindow
12
 
12
13
# Import our backend
 
13
# Import our backend
14
import todo
 
14
import todo
15
 
15
16
# Create a class for our main window
 
16
# Create a class for our main window
17
class Main(QtGui.QMainWindow):
 
17
class Main(QtGui.QMainWindow):
18
    def __init__(self):
 
18
    def __init__(self):
19
        QtGui.QMainWindow.__init__(self)
 
19
        QtGui.QMainWindow.__init__(self)
20
 
20
21
        # This is always the same
 
21
        # This is always the same
22
        self.ui=Ui_MainWindow()
 
22
        self.ui=Ui_MainWindow()
23
        self.ui.setupUi(self)
 
23
        self.ui.setupUi(self)
24
 
24
25
        # Let's do something interesting: load the database contents
 
25
        # Let's do something interesting: load the database contents
26
        # into our task list widget
 
26
        # into our task list widget
27
        for task in todo.Task.query().all():
 
27
        for task in todo.Task.query().all():
28
            tags=','.join([t.name for t in task.tags])
 
28
            tags=','.join([t.name for t in task.tags])
29
            item=QtGui.QTreeWidgetItem([task.text,str(task.date),tags])
 
29
            item=QtGui.QTreeWidgetItem([task.text,str(task.date),tags])
30
            item.task=task
 
30
            item.task=task
31
            if task.done:
 
31
            if task.done:
32
                item.setCheckState(0,QtCore.Qt.Checked)
 
32
                item.setCheckState(0,QtCore.Qt.Checked)
33
            else:
 
33
            else:
34
                item.setCheckState(0,QtCore.Qt.Unchecked)
 
34
                item.setCheckState(0,QtCore.Qt.Unchecked)
35
            self.ui.list.addTopLevelItem(item)
 
35
            self.ui.list.addTopLevelItem(item)
36
 
36
37
    def on_list_itemChanged(self,item,column):
 
37
    def on_list_itemChanged(self,item,column):
38
        if item.checkState(0):
 
38
        if item.checkState(0):
39
            item.task.done=True
 
39
            item.task.done=True
40
        else:
 
40
        else:
41
            item.task.done=False
 
41
            item.task.done=False
42
        todo.saveData()
 
42
        todo.saveData()
43
 
43
 
 
 
44
    def on_actionDelete_Task_triggered(self,checked=None):
 
 
 
45
        if checked is None: return
 
 
 
46
        # First see what task is "current".
 
 
 
47
        item=self.ui.list.currentItem()
 
 
 
48
 
 
 
49
        if not item: # None selected, so we don't know what to delete!
 
 
 
50
            return
 
 
 
51
        # Actually delete the task
 
 
 
52
        item.task.delete()
 
 
 
53
        todo.saveData()
 
 
 
54
 
 
 
55
        # And remove the item. I think that's not pretty. Is it the only way?
 
 
 
56
        self.ui.list.takeTopLevelItem(self.ui.list.indexOfTopLevelItem(item))
 
 
 
57
 
 
 
58
    def on_list_currentItemChanged(self,current=None,previous=None):
 
 
 
59
        if current:
 
 
 
60
            self.ui.actionDelete_Task.setEnabled(True)
 
 
 
61
        else:
 
 
 
62
            self.ui.actionDelete_Task.setEnabled(False)
44
 
63
45
def main():
 
64
def main():
46
    # Init the database before doing anything else
 
65
    # Init the database before doing anything else
47
    todo.initDB()
 
66
    todo.initDB()
48
 
67
49
    # Again, this is boilerplate, it's going to be the same on
 
68
    # Again, this is boilerplate, it's going to be the same on
50
    # almost every app you write
 
69
    # almost every app you write
51
    app = QtGui.QApplication(sys.argv)
 
70
    app = QtGui.QApplication(sys.argv)
52
    window=Main()
 
71
    window=Main()
53
    window.show()
 
72
    window.show()
54
    # It's exec_ because exec is a reserved word in Python
 
73
    # It's exec_ because exec is a reserved word in Python
55
    sys.exit(app.exec_())
 
74
    sys.exit(app.exec_())
56
 
75
57
 
76
58
if __name__ == "__main__":
 
77
if __name__ == "__main__":
59
    main()
 
78
    main()
60
 
79
---
Generated by diff2html on Sat Mar 7 02:08:22 2009
Command-line:
/home/ralsina/bin/diff2html session3/main.py session4/main.py