Designer is a Good Resource
Requirements
If you have not done it yet, please check the pre­vi­ous ses­sion­s:
All files for this ses­sion are here: Ses­sion 3 at GitHub
Designer is a Good Resource
To­day we are go­ing to make our ap­pli­ca­tion look bet­ter, and in­tro­duce some new things, like re­source files.
When we fin­ished Ses­sion 2, our main win­dow looked like this: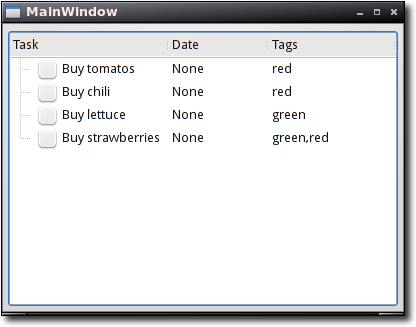 There are sev­er­al things wrong with that pic­ture. Let's tack­le them one at a time, us­ing Qt De­sign­er.
Window Title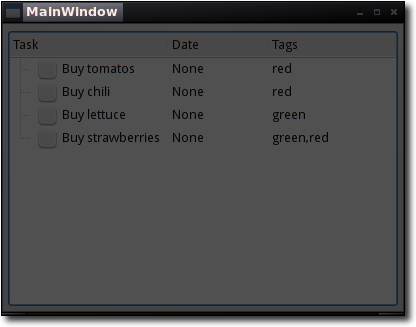 That's just wrong. While I have not yet cho­sen a name for this ex­am­ple ap­pli­ca­tion, it's sil­ly to have the win­dow ti­tle (and taskbar en­try!) say "Main­Win­dow"!
Here's how you change ob­jet prop­er­ties in De­sign­er.
First, you se­lect the ob­ject you want to mod­i­fy. You can do that by click­ing on it, or by se­lect­ing it from the Ob­ject In­spec­tor. For some wid­gets one or the oth­er is eas­i­er. For ex­am­ple, it may be hard to find emp­ty space in a win­dow to click and se­lect the win­dow it­self, or click in a very small wid­get, like a sep­a­ra­tor. In those cas­es, just use the In­spec­tor.
Once you have the right ob­ject se­lect­ed, look at the Prop­er­ty Ed­i­tor.
There is a list of prop­er­ties (ob­vi­ous ;-) sep­a­rat­ed by ti­tles like "QOb­jec­t" or "QWid­get". Don't wor­ry about those ti­tles much, just look for what you need, (it of­ten is pret­ty ob­vi­ous!).
In our case it's the win­dowTi­tle prop­er­ty.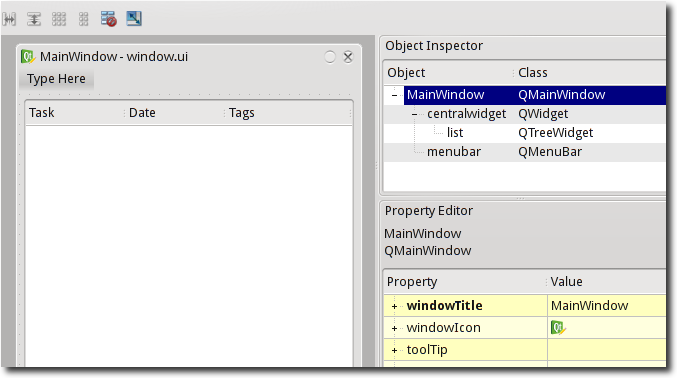 I will not be writ­ing these de­tailed ex­pla­na­tions and pic­tures for each prop­er­ty. I trust you can find them if I tell you "The win­dowTi­tle prop­er­ty of the Main­Win­dow Ob­jec­t".
Let's change that to "Todo".
Application Icon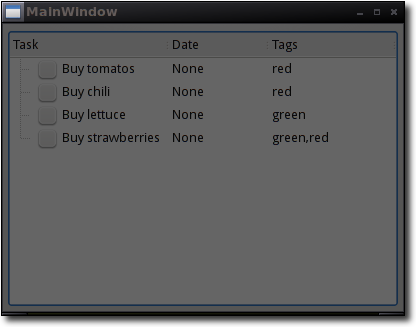 The win­dow icon is the de­fault gener­ic icon. This is im­por­tant be­cause it ap­pears in the taskbar along the win­dow ti­tle, and if you are us­ing it in some op­er­at­ing sys­tems or con­fig­u­ra­tions, the us­er may on­ly see the icon!
Find­ing icons to use in your ap­pli­ca­tions is a big prob­lem. There are sev­er­al things you can do:
Hire a graph­ics de­sign­er to do icons for you.

This, of course, is rather ex­pen­­sive, spe­­cial­­ly if you are a hob­by­ist.

Search the web and see what you can find.

For ex­am­­ple, if I look for "to­­do icon" in google, I find many, some re­al­­ly nice. How­ev­er, many of those are sub­­­ject to copy­­right, so it's a bet­ter idea to look for them in places like wik­i­me­­dia com­­mons:

Or maybe Open Cli­­part:

But my point is: those two icons are not all that awe­­some, and search­ing for a nice one is go­ing to take a while. If you will need 10 or 15 icons in your ap­­pli­­ca­­tion, the prob­lem is even worse, be­­cause you want the icons to be con­­sis­­tan­t!

Find a set of KDE (or maybe GNOME) icons you like, and steal con­­sis­­ten­t­­ly. This is my pre­­ferred so­lu­­tion.

I pre­fer KDE icons be­­cause I use a KDE desk­­top but there's no rea­­son to avoid GNOME icon themes. You can find KDE icons in kde-look.org and GNOME icons at gnome-look.org

An added perk is that all KDE (or GNOME) icon themes have con­­sis­­tent in­­ter­­nal names. That way you can lat­er on switch to an­oth­er theme very easy.
Then there is the icons file for­mat. If the icon theme you like is avail­able in SVG for­mat, that's good. SVG is scal­able, which means the icons will look good at all sizes with­out the need to in­clude mul­ti­ple copies in dif­fer­ent sizes.
In this tu­to­ri­al I will use icons from the Rein­hardt set. Why? I like them, and the style is sim­ple enough that I feel I can hack a fit­ting icon us­ing Inkscape if need­ed (as I did in this case, see be­low).
This is how the fold­er icon from Rein­hardt looks at dif­fer­ent sizes, com­pared with Snow­ish, a PNG icon the­me: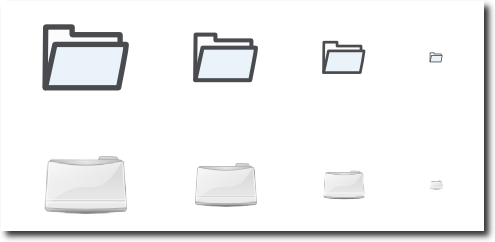 So, in short: choose an icon theme you like, and use on­ly icons from that the­me, if pos­si­ble.
For this ap­p's icon, I made this out of a piece of "mark_as_ham.svg" and some green colour:
So, af­ter all this icon talk, how do we use it? Well... that needs yet more talk, be­cause there are two ways: use icon files and use a re­source file.
Icon files:

In De­sign­er, go to the win­­dow­I­con prop­er­­ty of Main­Win­­dow. Click on the down ar­row. Se­lect "Choose File". The bad news: do­ing this makes pack­­ag­ing and dis­­tri­bu­­tion a bit hard­er lat­er on. The worse news: this will not work with a SVG icon. So for­get about it.

Re­­source file:

In De­sign­er, go to the win­­dow­I­con prop­er­­ty of Main­Win­­dow. Click on the down ar­row. Se­lect "Choose Re­­source". You will see a rather em­p­­ty win­­dow.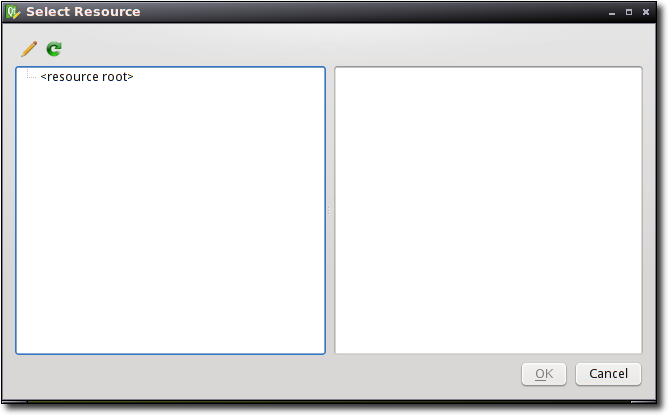 A re­source file is a XML file that con­tains ref­er­ences to all the icons you want to use. Lat­er, this is com­piled to a python mod­ule, which you can use from your ap­pli­ca­tion. As long as that python mod­ule is dis­trib­uted along with the oth­er­s, you will be fine, so there is nev­er a prob­lem of not find­ing an icon, or wor­ry­ing about where they are in­stalled. Things will just work. So it's worth a bit of ef­fort get­ting this right.
Here's how I do it:
Click on the pen­­cil but­­ton in the top right to get to the "Ed­it Re­­sources" win­­dow.

The em­p­­ty re­­source ed­i­­tor win­­dow

Click on the "New Re­­source File" but­­ton in the bot­­tom-left. Call it "i­­con­s" (or what­ev­er you wan­t)

Click in the "Add pre­­fix" but­­ton (fourth from the left­­). I called my pre­­fix "/"

Click in the "Add files" but­­ton (fifth from the left­­). Add to­­do.svg (fi­­nal­­ly!), click OK.
Steps 1, 2 and 3 are on­ly need­ed the first time you use an icon. To add the icons we will use lat­er it's just step 4.
So now your re­source win­dow looks like this: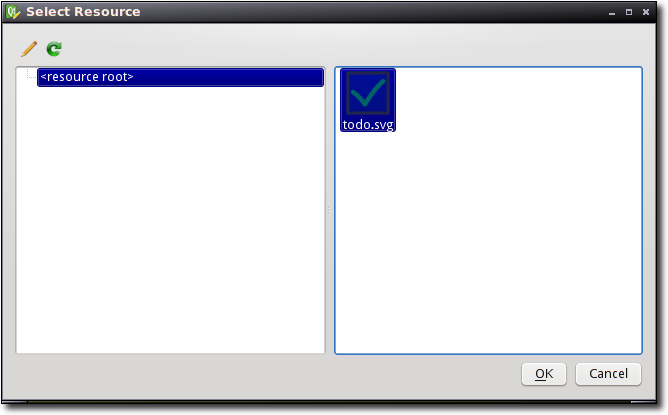 Choose it, and that's it, the win­dow has the right icon! Well ... not re­al­ly.
First com­pile the UI. Re­mem­ber we need to do this when­ev­er we change some­thing us­ing de­sign­er!
$ pyuic4 window.ui -o windowUi.py
Then run the pro­gram:
$ python main.py
Traceback (most recent call last):
File "main.py", line 11, in <module>
    from windowUi import Ui_MainWindow
File "/home/ralsina/Desktop/proyectos/pytut/session3/windowUi.py", line 41, in <module>
    import icons_rc
ImportError: No module named icons_rc
This is because you also need to compile the icons.qrc file we created. This is done using pyrcc4:
$ pyrcc4 icons.qrc -o icons_rc.py
And the icon works now :-)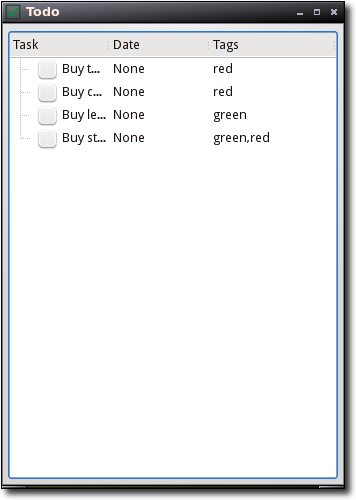 Since it's boring having to remember to run pyuic4 and pyrcc4, I wrote a trivial script to handle it, build.sh. If you are in windows, a similar BAT file is trivial.
Luck­i­ly, the next two UI fix­es are much sim­pler!
Tree Decorations
At the left of our task list there is a tree dec­o­ra­tion. Since this is not meant to be a tree, they are just a waste of space. They can be re­moved with the roo­tIs­Dec­o­rat­ed prop­er­ty of the list wid­get.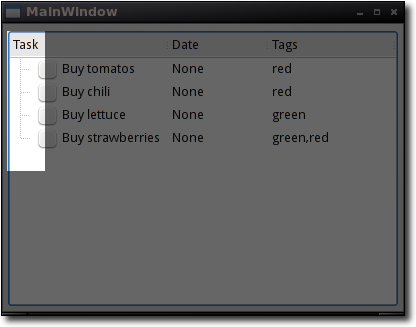 Wide Margins
I think the de­fault mar­gins here (4 pix­el­s) look old fash­ioned. I pre­fer 0 pix­el­s. YM­MV.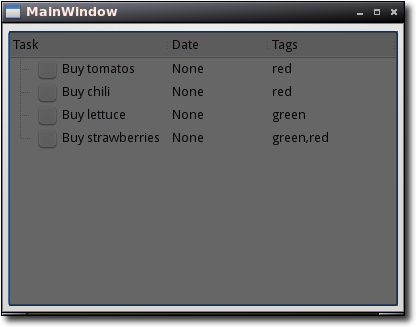 You can change them in the lay­out[­some­thing]­Mar­gin prop­er­ties of cen­tral­Wid­get.
Extra Fixes
I al­so pre­fer to set these in our QTreeWid­get:
al­l­­ColumnsShow­­Fo­­cus True

uni­­for­m­RowHeights True (bet­ter per­­for­­mance for long list­s)

sort­in­­gEn­abled True

al­ter­­nat­in­­gRow­­Col­ors True
See the docs to see what they do!
Finished!
So, af­ter run­ning build.sh, this is how the app looks now: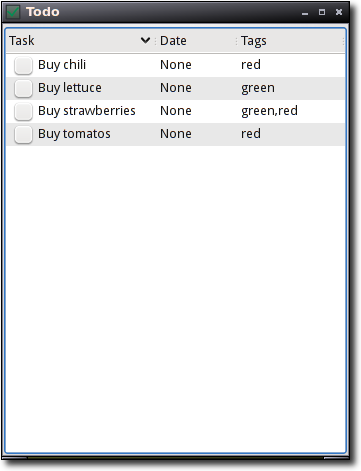 Coming Soon
In this ses­sion, we did no cod­ing at al­l, we just worked on de­sign­er and graph­i­cal de­tail­s. This may not seem too im­por­tant to you, if you are a hard­core coder, but trust me: it is. Mak­ing apps as pleas­ant to use and look at as you can with­in your pos­si­bil­i­ties is very im­por­tant if you want the first re­lease to make any kind of im­pact. I learned it the hard way by re­leas­ing ug­ly apps ;-)
It does­n't mat­ter if your graph­i­cal de­sign skills are lim­it­ed, like mine, try not to over­reach and do your best.
In ses­sion 4 we will dive in­to cod­ing, and make this app func­tion­al for the first time, in­tro­duc­ing one of the neat­est fea­tures in Qt: Ac­tion­s.