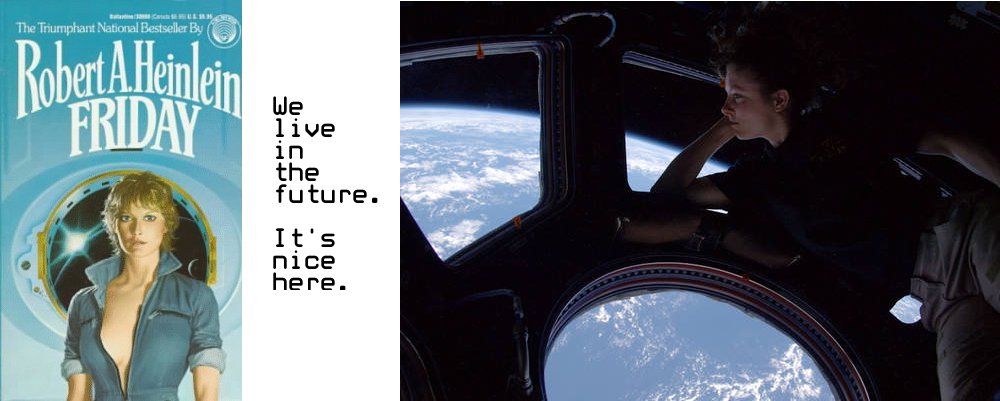 Neal Stephen­son wrote:
There is some­thing new: A globe about the size of a grape­fruit, a per­fect­ly de­tailed ren­di­tion of Plan­et Earth, hang­ing in space at ar­m's length in front of his eye­s. Hi­ro has heard about this but nev­er seen it. It is a piece of CIC soft­ware called, sim­ply, Earth. It is the us­er in­ter­face that CIC us­es to keep track of ev­ery bit of spa­tial in­for­ma­tion that it owns - all the map­s, weath­er data, ar­chi­tec­tural plan­s, and satel­lite sur­veil­lance stuff.

Hi­ro has been think­ing that in a few years, if he does re­al­ly well in the in­tel biz, maybe he will make enough mon­ey to sub­scribe to Earth and get this thing in his of­fice. Now it is sud­den­ly here, free of charge...
And of course, I have just that very thing in­stalled in my desk­top. Not all the men­tioned da­ta is hooked in­to it, but hey, it is free of charge.
Hein­lein wrote about pri­vate cit­i­zens and com­pa­nies go­ing in­to space. He thought it was not any gov­ern­men­t's job. And that is go­ing to hap­pen in my life­time. I know a guy who knows a guy who knows a guy who went to space pay­ing for it with his own mon­ey.
Of course there are no fly­ing cars or rock­et back­packs (those were good ideas... not!)
What's the dif­fer­ence be­tween Gib­son's Idoru and Go­ril­laz, ex­cept that it's cheap­er to pay mu­si­cians than it is to build Ar­ti­fi­cial In­tel­li­gences? Can you tell me what's the point in build­ing an AI, any­way? Aren't me­chan­i­cal turks cheap­er and bet­ter?
Asi­mov wrote about a foun­da­tion of schol­ars writ­ing an en­cy­clo­pe­dia to be con­stant­ly up­dat­ed, con­tain­ing the whole of hu­man­i­ty's knowl­edge (we got wikipedia in­stead. Good enough!)
Our phones are much nicer than Star Trek's com­mu­ni­ca­tors (for ex­am­ple, the loud­speak­er is op­tion­al)
It's as if most of the ideas of sci­fi got fil­tered through a pu­ri­fi­er and what made sense came out on the oth­er side. I like liv­ing in the fu­ture. I want to see the next one.